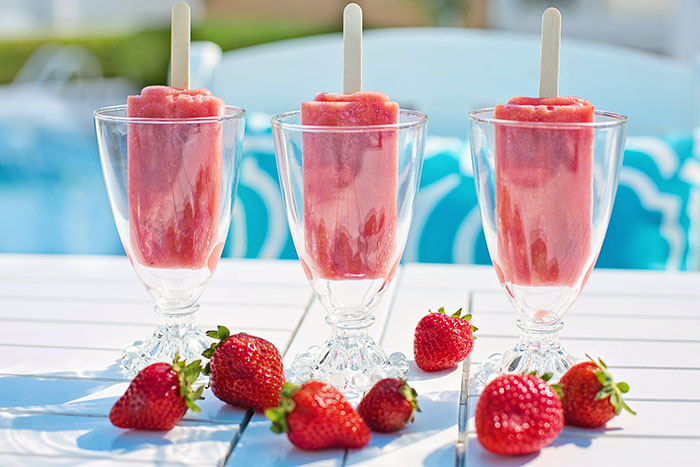 Although summer is coming closer to an end and a new school year is just around the corner, the warm weather is here to stay! While you've been enjoying your summer days lounging by the pool and sleeping in, Chef Crazy Bill has been hard at work in the kitchen cooking up a storm to create these frozen cannabis treats for you to enjoy.
Parfait Popsicles
Let's kick things off with a healthy honey roasted grapefruit parfait popsicle cool enough to cool you down on even the hottest summer days and delicious enough to satisfy any sweet tooth craving.
Total Time: 45 minutes
Servings: 8
Ingredients:
3 grapefruits

1 tablespoon sugar

8 tablespoons cannabis sugar

2 cups dairy free yogurt

1 tablespoon honey

½ cup honey roasted sliced almonds
Instructions:
Preheat oven to 375 degrees.

On a

silicone mat lined baking sheet

, place the grapefruit wedges and sprinkle them with sugar. Bake them for 20 – 25 minutes until they begin to caramelize.

Stir together the remaining ingredients (dairy free yogurt, honey, almonds, grapefruit and cannabis sugar).

Pour the contents into the popsicle mold and freeze.
Vegan Mochasicles
Keeping with the trend of healthy frozen canna-treats we decided to include this delicious vegan treat packed with natural ingredients only. Beat the heat with this crowd pleaser.
Total Time: 4 hours and 10 minutes (don't worry, prep time is just 10 minutes!)
Servings: 8
Ingredients:
150 grams raw cashews

120 grams coconut meat

2 cups almond milk

½ cup agave nectar

½ cup hot water

1 packet 10 mg instant coffee

1 teaspoon cacao powder

¼ teaspoon salt

1 scoop vegan mocha protein powder

Crushed baking nuts

1 teaspoon coconut oil

Dark chocolate (as much as your heart desires)

2 packets ripple pure 10 mg
Instructions:
Boil ½ cup of water and add the instant coffee.

Place all ingredients into the blender and puree until smooth and creamy.

Pour the mixture into popsicle molds and freeze until set (this is where the 4 hours comes in).

Combine coconut oil and dark chocolate. Dip popsicles in the mixture and then sprinkle on crushed nuts of your choosing.
Nutella & Strawberry Sorbet
Did someone say Nutella and strawberry? Yes please! Enjoy this delicious combination on a hot summer day, or if you're like us and obsessed with Nutella, enjoy it all year round!
Total Time: 4 hours and 10 minutes (again, don't panic!)
Servings: 4
Ingredients:
Strawberries (duh!)

Nutella (double duh!)

8 ounces medicated honey

2 tablespoons lemon juice

2 tablespoons sugar

1 ounce medicated coconut oil
Instructions:
To make the strawberry sorbet blend the strawberries, medicated honey, lemon juice and sugar. Once completely blended pour the mixing into a bowl and let it freeze (this is where the 4 hours comes in again).

To make the Nutella shell mix the coconut oil and Nutella and microwave it for about 30 seconds until it's completely melted.

Once the sorbet is frozen, drizzle the Nutella on a scoop of the ice cream and watch it harden.
Canna Oreo Cookie Ice Cream Sandwich
We've given you a couple healthy frozen canna-treats but we couldn't resist adding in this classic dessert with a twist to the mix. Do you like cannabis? Do you like Oreos? Do you like ice cream sandwiches? If you answered yes to all of the questions then we have your new favourite summer treat!
Prep Time: 1 hour
Servings: 6
Ingredients:
Oreo cookies (we recommend the double stuffed but hey, your call!)

Vanilla ice cream

1 tablespoon infused coconut oil
Instructions:
Scrape our 60 Oreo fillings and place in a bowl.

Heat the fillings for 2 minutes or until completely melted and runny.

Add the cannabis infused oil to the filling and mix well.

Blend the Oreo cookies into crumbs.

In a large bowl, blend the vanilla ice cream on slow adding in the infused filling. Make sure you mix this part really well.

Add the crushed Oreos to the mixer and mix on high.

Place this mixture in a baking dish and cover tight. Freeze it for at least 12 hours. 24 hours is best!

With the frozen mixture, use a

cookie cutter

about the size of an Oreo and cut out sections of the ice cream to into a full Oreo.

Put the sandwiches back into the freezer for a few hours and then enjoy!
We're not ready to sing so long sweet summer just yet! Enjoy these frozen summer treats for weeks to come or even months if you're feeling rebellious and maybe just a tad in denial. Stay tuned for more crazy concoctions coming your way from Chef Bill!