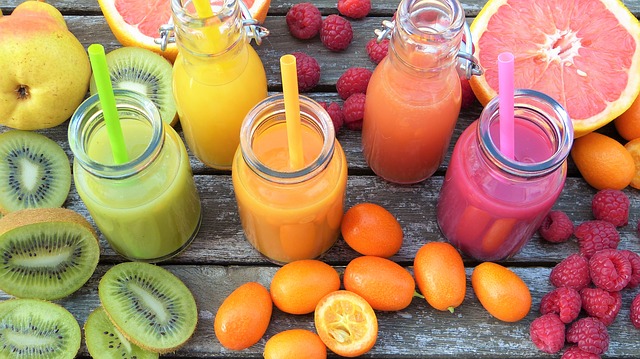 Let us just start this off by mentioning that the smoothies we outline below, don't literally smoke but in our books, they may as well!
Summer has finally arrived and Crazy Bill has been spending some time in the kitchen experimenting with some delicious smoothies so that you can keep that high going all summer long while staying on track of that health kick we all know you're on for that summer bod.
So grab a bud (we leave it to you to interpret which bud we're referring to), some summer tunes, your bathing suit and get to blending these five smokin' smoothies!
1. Blue Dream
Start your day with a healthy breakfast with this infused smoothie loaded with cannabinoids, terpenes, antioxidants, vitamins, minerals, electrolytes, omega 3 and 6 fatty acids, calcium and protein.
Prep Time: 5 minutes
Servings: 1
Ingredients:
1 banana

1 cup milk

½ cup coconut water

3 oz. frozen acai puree

1 tablespoon flax meal

1 tablespoon honey

10 mg THC cannabis tincture
Instructions:
Combine all ingredients into the blender

Blend on medium-high for about 30 – 60 seconds until everything is well mixed and smooth
2. Berrilicious
Loaded with one of nature's superfoods, berries are the star of this smoothie (hence the name, duh!). Loaded with antioxidants, vitamins, fiber, pectin and natural sweetness, this is the perfect smoothie to sip on during those hot summer days.
Prep Time: 5 minutes
Servings: 1
Ingredients:
1 tablespoon infused honey

1 cup apple juice

1 cup milk

½ cup strawberries

½ cup blueberries

½ cup cherries

2 tablespoons hemp seeds
Instructions:
After infusing the honey, set aside desired amount to cool.

Place all ingredients into a high speed blender and pulse on high for 1-3 minutes or until smooth and creamy.
3. Canna Green
Some people like to supercharge their smoothies with an extra shot of protein powder. We like to supercharge our smoothies with cannabis oil. You'll love this super green cannabis infused smoothie any time of the day as an accompaniment to your breakfast or as a snack throughout the day.
The variants are endless as you can add leafy greens such as kale and romaine, or use a pear in place of the apple. Such a simple and healthy recipe.
Prep Time: 10 minutes
Servings: 1
Ingredients:
3 cups spinach

1 cup coconut water

1 cup water

¼ cucumber

1 apple

1 banana

Cannabis oil
Instructions:
Put all ingredients in a blender and blend away!
4. Very Berry
For a fruity, light breakfast, try this Very Berry purple smoothie packed full of nutrients from the berries and bananas. And of course, a kick from a splash of cannabis oil.
Prep Time: 10 minutes
Servings: 1
Ingredients:
1 cup frozen raspberries

1 cup frozen blueberries

1 banana

5 cups milk

1 ml cannabis oil

Sweetener
Instructions:
Add all ingredients in a blender

Blend until smooth

Serve. Eat well. Be happy
5. Ruby Pineapple
This one is for those who have a real sweet tooth and need a healthier alternative than ice cream during the summer months cravings.
Prep Time: 10 minutes
Servings: 1
Ingredients:
1 tablespoon ruby cannabis sugar

¾ cup water

2 cups pineapple chunks

1 avocado

2 cups spinach

½ cup ice
Instructions:
Combine all ingredients into a blender and blend until as smooth as that pick up line your Dad used to make your Mom fall in love with him.
Refresh yourself while sipping on these smokin' smoothies all summer long and enjoy the high my friends! Stay tuned for more crazy concoctions coming from our very own Chef Bill!