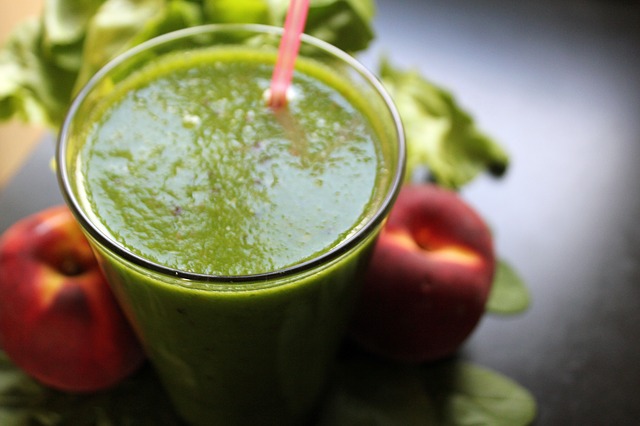 Spring is in the air which means summer is just around the corner. And we all know what that means – it's time to get our beach bodies ready! We're turning to our fitness guru, Mary Jane, who has a few healthy recipes up her sleeve that will help you get that beach bod while giving you that summertime high we all can't wait for!
1. Green smoothie
Even my doctor has told me that I should have more green smoothies. Maybe he wasn't referring to this one exactly, but hey we like to put our own spin on things. Starting your day with a bunch of greens is a sure-fire way to boost energy and mental clarity. All you need to do to make this healthy smoothie is blend two ripe avocados with one cup of water and one tablespoon of freshly squeezed lemon juice. Then, add in one cup of spinach, two tablespoons of agave nectar and two teaspoons of canna-coconut oil and blend until smooth. This smoothie brings the term 'wake-n-bake' to a whole new level. Drink up my friends!
2. Salsa attack
If you can't resist that munching urge, at least dip your tortilla chips into this cannabis-infused, healthy salsa mix. All you have to do is toss two cups of chopped tomatoes, a half cup of diced onion, a quarter cup of CannaOil, half cup diced green pepper, fresh lime juice and salt and pepper into a mixing bowl. You can either serve the salsa immediately or let it chill in the fridge before serving.
3. High hummus
A summertime snack essential, this herbal cannabis taste is a great make-ahead treat for you to munch on throughout the week. Start by taking a small saucepan and warm about three-quarters of a cup of THC olive oil. Then, put in a three-quarter cup of tahini, three tablespoons of fresh lemon juice, two tablespoons of artichoke hearts, chopped one-quarter cup of roasted red peppers, and a half cup of the warm THC oil in a food processor and blend until the mixture is nice and smooth. And don't forget to serve with warm pita bread – the second best part of the recipe!
4. Avocado toast
When you're craving that mid-afternoon snack, this meal is sure to satisfy your hankering. After toasting your bread spread one teaspoon of canna-butter (Try our MagicalButter machine to make your canna-butter) and two slices of tomato on each slice. Toss one large avocado with two teaspoons of freshly squeezed lemon juice and spread on the slices. Season it with salt and pepper, serve warm, and enjoy!
5. Canna Chocolate
This last recipe is to satisfy those of you with a sweet tooth without pushing things over the top. Place 8 ounces of dark chocolate and two tablespoons of canna-butter in a microwave-safe bowl, heating for 30-second intervals until it is almost fully melted. Then remove and stir to melt it fully. Spread the melted chocolate onto wax paper evenly and sprinkle in two tablespoons of chopped dried cherries and golden raisins, and one tablespoon of unsalted pistachios and pecans. Once it has cooled and the chocolate is set, break into however many pieces you want and satisfy that sweet tooth.
Whether you're searching for your perfect beach body or you just want to indulge in some of the best summer recipes, all of these healthy edibles are sure to leave you feeling happy and healthy. Oh, and a little bit high! Soak up that sun and munch away. And when your friends ask how you got into such great shape for the summer, just mention you have some good friends in high places.