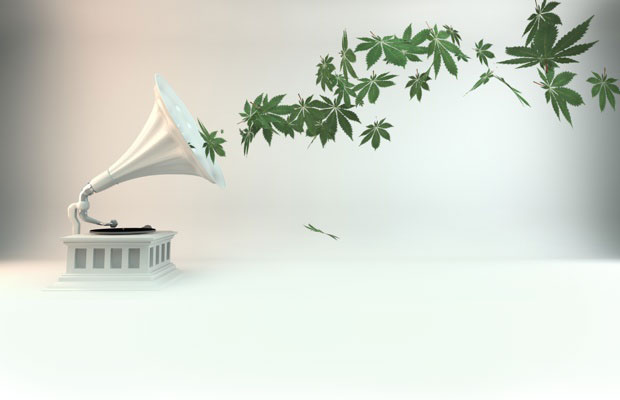 All stoners know that some good weed is best accompanied with great music. Marijuana played a big part in my coming of age, finding my identity, beliefs and forming my taste in the arts and music. I truly believe music is heightened and elevated with marijuana. You hear each kick of the drum hit a little harder, every string of the guitar being strung and every part of that bass guitar that's usually hiding in the background creating the essential part of every song. I remember making myself a test subject at a Nine Inch Nails concert – for the first part of the concert I was straight and sober and then when 'Hurt' came on I lit up my first joint of the concert evening. What a difference it had made for my Nine Inch Nails experience. Everything was louder, clearer and seemed more profound and meaningful. I was then fully in the moment. I thought to myself 'man, why did you wait so long to spark that?' From then on out I knew that music and weed didn't just accompany each other on my headphones but most importantly made a huge impact in a live concert setting. It's the atmosphere, the band, the tone and tempos, the thousands of people singing along and the weed.
Here is a personal list of music across some genres, that I feel go best with a nice joint, dab or bong rip.
From the 1960's Otis Redding contributed to the Soul & R&B genre, he truly poured his soul into a lot of his songs really setting the stage for the rhythm and blues with his influences being Little Richard and Sam Cooke. Some of my favorite songs by Otis Redding include "Dock of the Bay" from studio album 'Dock Of The Bay' which is best heard while at a cottage, on vacation or if you need a vacation. "These Arms of Mine" from the album 'Pain In My Heart' is best shared with a loved one or spouse which could lead to some bump and grind. He has many other great songs that are accompanied well with marijuana.
Also from the late 60's until recently, Pink Floyd have contributed immensely to the progressive rock, art rock and psychedelic rock genres. It is hard to choose a few songs of theirs but I shall try. I prefer Waters & Gilmour together so from the album 'Dark Side of the Moon' the track 'Money' has some added saxophone and other money related sound effects. It has one of the most memorable classic bass riffs ever recorded giving it a blues rock feel. Another great tune to listen to while stoned is 'Have a Cigar' from the album 'Wish You Were Here'. English folk singer Roy Harper provided lead vocals on this track, one of only two Pink Floyd recordings to feature guest lead vocals. This song is more rock oriented than the rest of the album, with electric guitar and bass and electric piano and synthesizer. Put your headphones on and enjoy these tracks.
From the rap, hip hop, gangsta rap genre, Cypress Hill has been a delight to our ears since 1988. They have collaborated with so many other artists and just keep on putting out new material. They were nominated at the Grammy Awards for Best Rap Performance by a Group or Duo for their song 'Insane In The Brain'. From the album 'Black Sunday', 'Insane In The Brain' quickly became a crossover hit, starting a following among rock audiences. This song gets you up jumping and moving no matter how stoned you are. The repetitive chorus is easy on the ears and super easy for stoners to remember and sing along too. Another great hit from the same album 'Black Sunday' is a classic among stoners. 'Hits From the Bong' is one of those songs that is an anthem among stoners and non-stoners alike. This is a slower pace song which really sets the scene for a relaxed wake and bake or any smoke session. The added bong rip sounds in the background truly defines the name of the song and couldn't be any more obvious.
The country genre has brought us many artists that sing about weed and use weed on a daily basis. I've chosen a classic and original artist for this genre, Willie Nelson. He hasn't always endorsed marijuana but in the past few years his tour bus has been stopped and searched for weed with a positive outcome for the police. He has also collaborated with artists from all genres and sometimes singing about marijuana. From the album, 'Heroes', Willie brings us a classic tune that many of us can relate to, 'Roll Me Up'. Willie released this song on April 20, 2012 and it was the first released single from the album. On the same day it was released he played it at the unveiling ceremony of his statue in Austin, Texas. In this song he sings about wanting a party with music and friends to celebrate his life when he passes, he also requests that no one has sad and teary eyes. This song is most definitely a catchy tune that gets your foot tapping very easily. Another great song by Willie is from the album, 'Django & Jimmie' called 'It's All Going to Pot'. This song is a collaboration with Willie Nelson and Merle Haggard and it pretty much sums up the war on pot. They sing about telling the corporations to keep their pills because its all going to pot and so is his hundred dollar bill. This song has a great country rock sound that can get you moving. It will turn your frown upside down.
There are many, many other songs that go great with weed but then this blog would go on and on. I do suggest you take a good listen to all these songs, take a nice long puff of your finest green, sit back and enjoy!