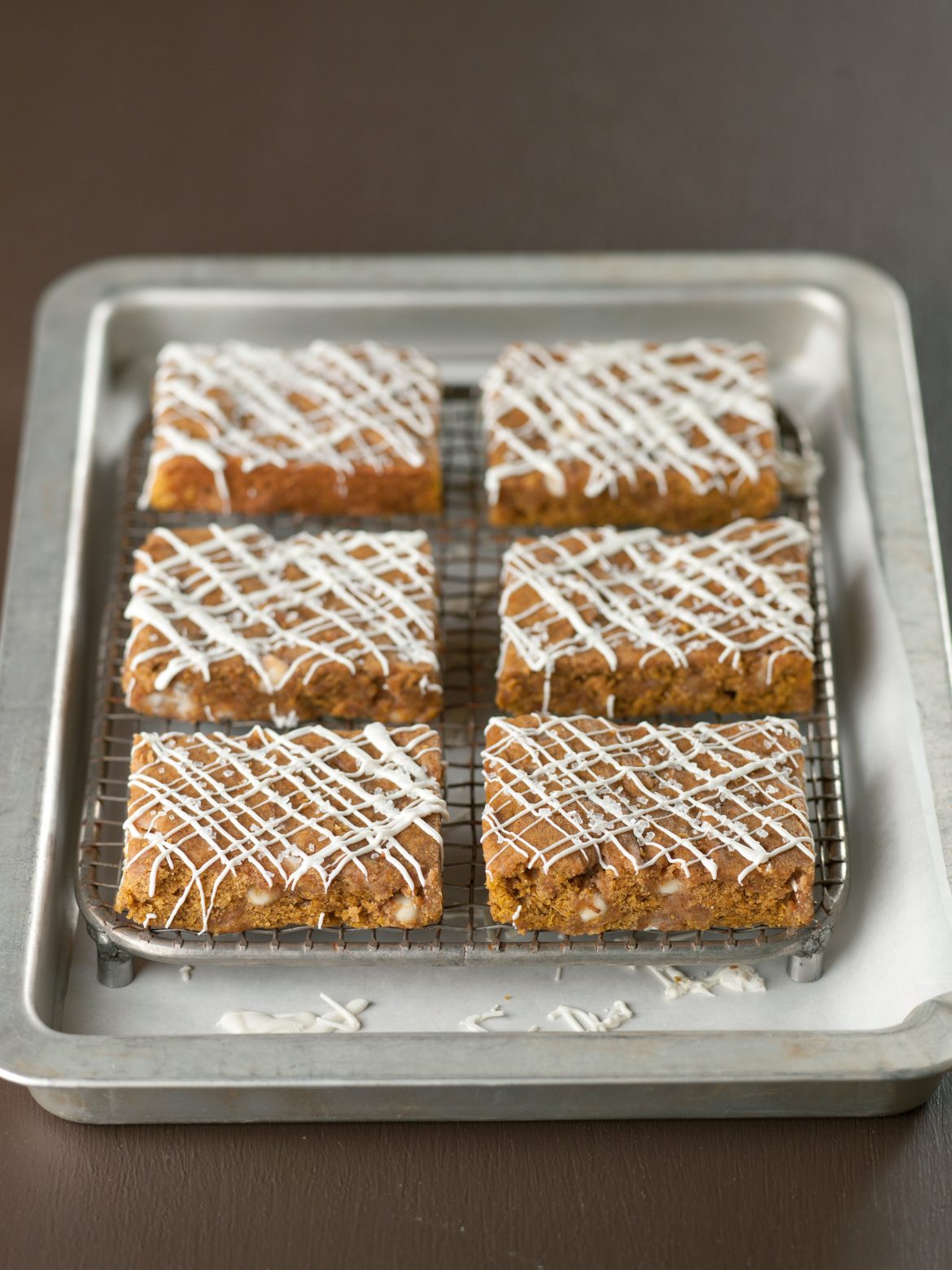 Makes 18 Bars
Vegetable shortening, for greasing the pan
2 cups all-purpose flour
2 teaspoons ground cinnamon
1/2 teaspoon ground cloves
1/2 teaspoon ground allspice
1/2 teaspoon freshly grated nutmeg
1/2 teaspoon salt
1/2 cup Buddha Budda (page 43), slightly softened
1/2 cup (8 tablespoons/1 stick) unsalted butter, slightly softened
1/2 cup firmly packed dark brown sugar
1/2 cup granulated sugar
1 large egg
1 tablespoon pure vanilla extract
1 cup pure pumpkin puree
3/4 cup of white chocolate chips
1/2 cup of pecans, coarsely chopped, toasted (optional)
1/3 cup dried cranberries (optional)
Glaze
6 ounces white chocolate chips
2 teaspoons vegetable shortening
Clear sugar sprinkles
Preheat the oven to 350F. Grease a 10×15 inch baking pan with vegetable shortening.
In a medium bowl, whisk together the flour, cinnamon, cloves, allspice, nutmeg, and salt; set aside.
In a large bowl using an electric mixer, cream together the Buddha Budda, butter, brown sugar, and granulated sugar on medium speed until light and fluffy. Beat in the egg and vanilla. Add the pumpkin and combine well. Reduce the mixer speed to low and add the flour mixture. Beat well. Fold in the white chocolate chips and, if using, the pecans and cranberries.Pour the batter into the prepared pan and smooth it into an even layer using an offset spatula.
Bake until a toothpick inserted in the centre comes out clean, 18 to 22 minutes. Transfer the pan to a wire rack to cool completely. Cut into 18 equal size bars.
Prepare the glaze: In the top section of a double boiler, melt the white chocolate and shortening over simmering water. Stir continuously until the chocolate has melted, being careful not to get any water into the chocolate or it will seize (see Note).
Remove the brownies from the pan and place them on a wire rack set over waxed paper. Dip a fork into the glaze and drizzle it onto the brownies in a criss cross pattern. Dust the brownies with clear sugar sparkles.
Wrap tightly in aluminum foil and store in the refrigerator for up to 1 week, or in the freezer for up to 3 months. Note: Chocolate should melt into a smooth, satiny pool, but it's temperamental and will not tolerate moisture. If even the tiniest bit of condensation drips down the inside of a pan, or if steam escapes from the bottom of the double boiler, the chocolate will react badly, becoming a grainy mess; this is known as "seizing" Recipe Taken from Sweet Mary Jane 75 Delicious Cannabis-Infused High-End Desserts by Karin Lazarus Smashing Pumpkin Bars, P.81-82.