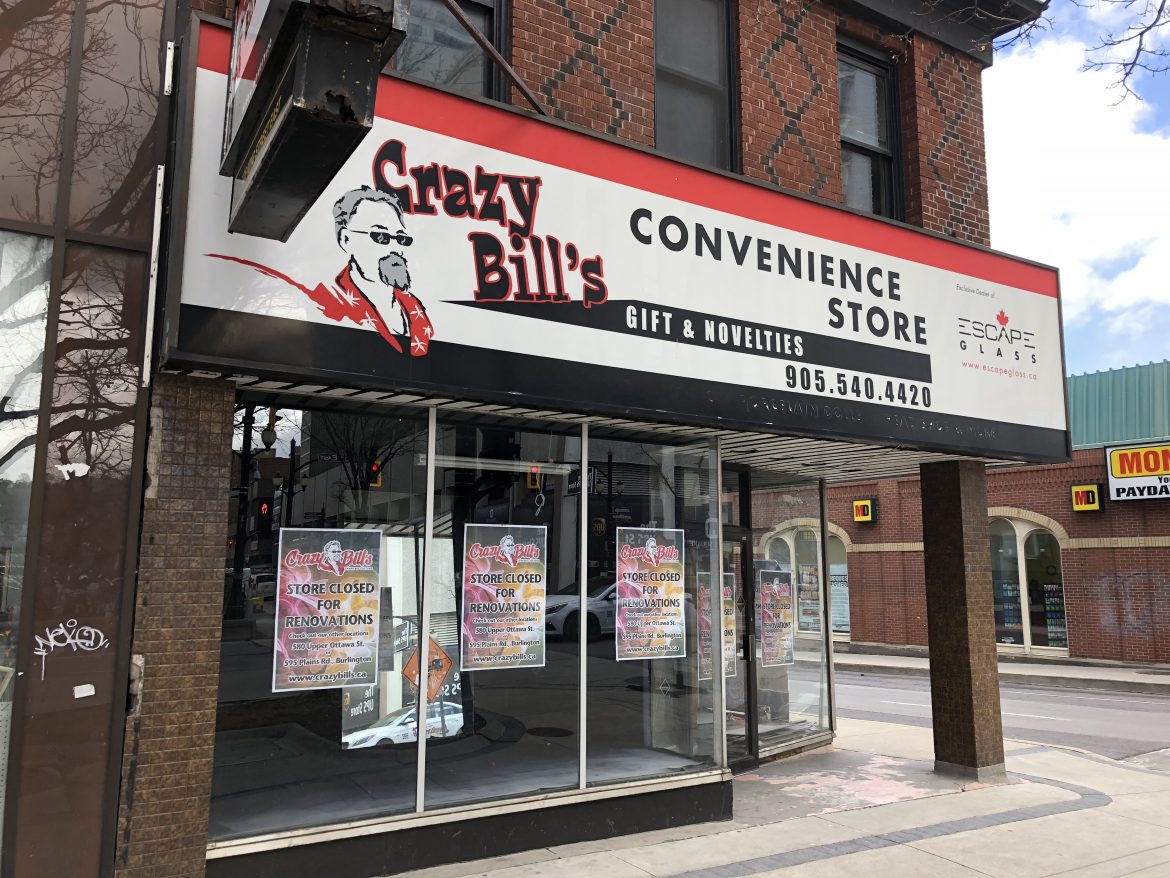 When I started writing this blog it was mostly going to be about the store closing downtown Hamilton but the more I wrote, the more I thought about the last 11 years of the store and how it has affected the people that I worked with. So, this blog turned more into a personal story but not just about me and the closing of the store but the the people that helped it grow and succeed. This past week we had to close our downtown Hamiltom store it has been hard on us over at Crazy Bill's, emotionally and physically.
The Landlord, after 11 years, gave us 90 days to pack up our store and move. We had been there since March 11th 2007. Bill and I (Bill's Son Ryan) opened the downtown Hamilton store together, we had been looking for a spot to put a new store and we heard that Up In Smoke closed down because they were giving away cannabis to customers. We knew it wasn't because they were not making any money so we took a huge risk opening a store in a city that we were not very familiar with.
It was very hard on us in the first 3 years. The first year I was only giving myself a pay of only $75 a week, just enough for gas and parking . Once you reach a certain level of success it's easy to forget where you come from , I think now would be a good time to thank all the people that helped me and my family along the way. First and foremost I would like to thank my Wife that has really helped out with everything from business to our personal lives. I know how hard she works and takes cares of our two kids, also helping to run our business and dealing with me and my big beard. Second, my wife's parents have helped so often. They let us live with them when we first opened the downtown store with a pregnant wife and then an infant we would have never made it past the first year with out them , I will forever be grateful to them. Third, my mom and dad who gave me an opportunity and I ran with it. They have really had my back from the beginning and I could write an entire blog about the things they've done for me and my family.
Fourth, the staff that have helped me and my family grow our business , yes even the bad employees. I can't name you all but here's a few that come to mind:
Mara, I am saddened that things ended the way they did. Out of all the employees that have ever left Crazy Bill's, you are the employee I regret losing the most and the way that I dealt with things, I want you to know I learned a lot from it .
Chantal, thank you for dealing with my crazy family for so long. You've always been the best at adapting to any new job or position we gave you and I'm happy that you see Crazy Bill's as a career and not just a job .
Rachel, you are one of the nicest and kindest person I have ever met. I wish nothing but the best for you and Joe with your new lives up north .
Lauren, how I miss the days where we would hung out and I would share my raspberries with you. We consider you part of our family and you are sincerely missed. We can't wait to see you and Hamish in Mexico for your wedding.
Alicia, you've always been a trustworthy and dependable member of our team. I have seen you grow so much over the last few years and can't wait to see how you grow with us.
Also, I hope to get to know even more of the new staff like Sylvia, Marissa, Megan, Sheyanne and Shannon.
I have a story or something to say about every single employee that's ever worked for me ,whether it be good or bad or something I've learned from them. It has made me a better person and not just in business but in my personal life.
I often wonder what happened to past employees , how are you doing people like Cindy, Dayna, Jason, Amanda, Alexis, Rebecca, Bonnie and Jessica.
And I have made some friends along the way like Angela, Rachel, Alice, Matt, and Lauren. But, not just with staff but with customers and wholesalers,a special shout out to Phil, Chad, Jason, Bill, Brandon, Melissa, Ricky, John, Richard, Dale, Darryl, Betty, Brendon, Mike and Olivia.
Just to give you a quick summary, this store has changed my life for the better and I am unbelievably saddened that this location has had to close it's doors.
Thank you everyone for your patronage over the years.