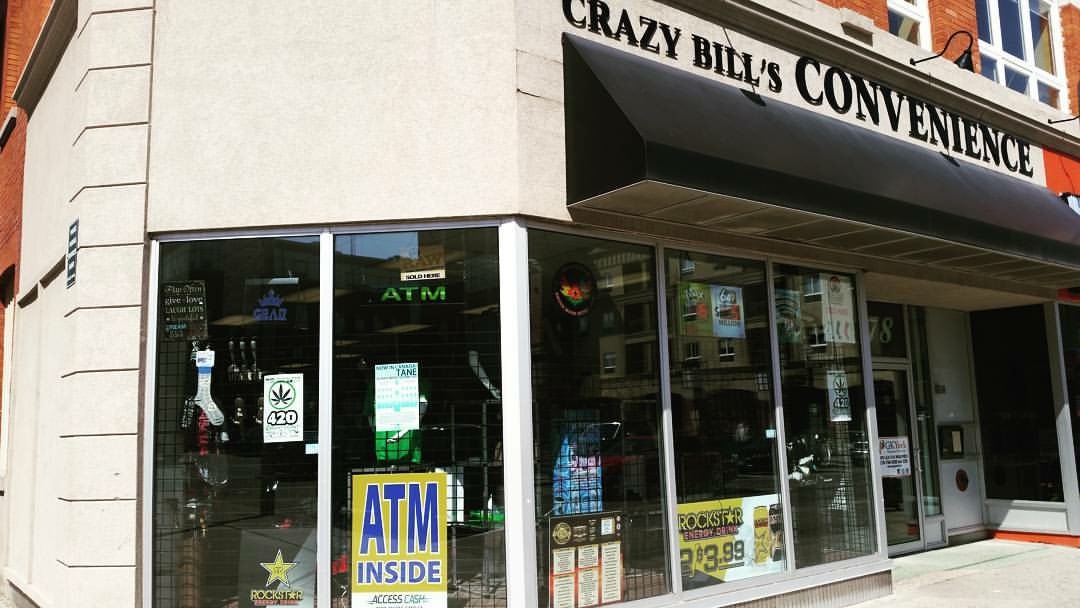 Crazy Bills is located at 76 Dalhousie St in the heart of our downtown. I sat down with Anne-Marie over lunch and asked her all about her store.
B: You'd have to be crazy to not know what you guys do here, but let's say our readers don't know. What do you do here at Crazy Bills?
Anne-Marie: We are a very unique store involved with cannabis culture. About seventy five percent of the store revolves around this and the other twenty-five percent is our variety store. We have a great reputation in the cannabis culture world because we like to educate people with what's going on. There is a lot of misinformation out there and we like to make sure people have the correct facts before they move forward with a purchase.
B: You've been a recognized name in the downtown core for years. What do you think makes you different than other shops like yours?
Anne-Marie: We are a family run business, one of us is always in one of our stores. We pride ourselves on being a family run small business in a culture where big box stores are taking over. If it wasn't for my family there wouldn't be a store.
B: The key to a successful business is being part of community events. What role does your business take when it comes to charity, events and community service?
Anne-Marie: We have reached out to a number of organizations to help with fundraising and donations. When people come to us we are happy to provide whatever is needed. We also work with Harmony Square and the BIA to help with events downtown. Our door is always open for people to come in and ask us for help with events that are going on in our community. We love to take part and give back. Once a year we even clear the shelves and donate needed items to the food bank. Due to the nature of our business, we don't have a lot of people who bang on our door asking for help but those that do, find that we are more than happy to help in any way we can.
B: How have the changes to the downtown core affected your business?
Anne-Marie: I personally have worked downtown for over thirty years. I used to own little card and comic shop but most of what used to be here is all gone now. Torn down and rebuilt. I've seen it go from a thriving downtown to a ghost town to a thriving downtown again. I love our new downtown. I think that the university has done some phenomenal things down here and I see more great things coming. I am so glad to be a part of that.
B: Why is it called Crazy Bills?
Anne-Marie: How much time do you have? Years ago I had lost my job working for a local bingo hall and I didn't want to start working for someone else. Having been in a management role I was used to being in charge and I didn't think I could go back to a situation where I wasn't the boss. My husband said to me. "Why don't you open another store". I spent weeks coming downtown looking around and asking people what they needed. The answer that came from so many people was astonishing. "There is nowhere downtown to get milk and bread." I told my family and friends I was going to open a store downtown and the continuously said to me "there's is nothing for you downtown, you're crazy. " "Only somebody crazy would open a store downtown." It was on the drive home one day that I said to myself. "I'm doing this." I told my husband Bill. "I'm opening a store downtown, I've got the location and I'm going to call it Crazy Bill's." My husband and my children were my inspiration for opening this business. They backed me up 100 percent and pushed me to the point we are at today. Now we have three stores and have been downtown for fifteen years.