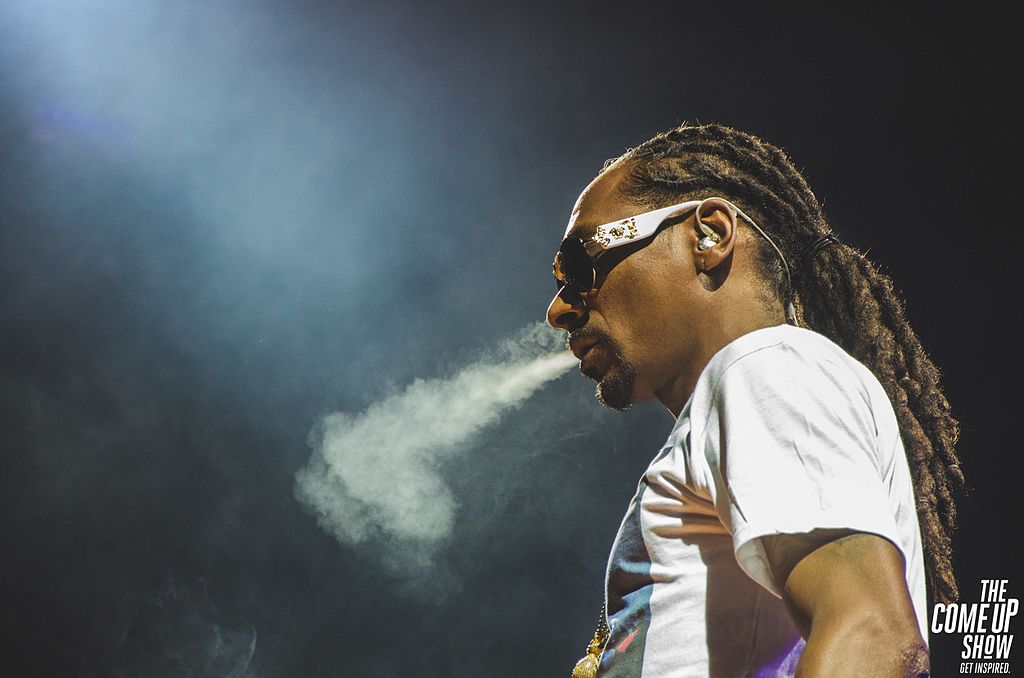 Despite the fact that technically marijuana is still illegal (for the time being), so many people smoke weed recreationally making it much less taboo than it used to be. Here's a list of our favourite celebrities who like to light one up from time to time, or every day. Who says you can't have friends in high places?
Willie Nelson
Let's start with one of the marijuana kings. No stranger to the green, Willie Nelson has actually launched his own strain of premium weed. A true weed smoking legend we might never see the likes of again. He even had a smoke-off with our next stoner celebrity.
Snoop Dogg
When it comes to rap's biggest smoker, it's hard to get past Snoop Dogg who once claimed that he smokes 81 blunts a day. Talk about riding the high. A longtime marijuana advocate, Snoop's lyrics are often littered with references to the green. The rap icon even has his own branded marijuana line, Leafs By Snoop.
Woody Harrelson
Woody, or who we like to refer to as Weed-y Harrelson is a longtime activist for the legalization of marijuana and hemp. He's even applied for a pot dispensary permit in Hawaii. Surfs and joints up dude!
Seth Rogen & James Franco
We had to list these two together since they come as a pair. Starring in Pineapple Express, it is still unknown whether these two shared a real joint on stage while presenting an award during the MTV Movie awards or if it was fake. When Seth isn't busy acting, he's often writing screenings of films where people can light up during the showing. Now those are the kind of friends you want.
Justin Timberlake
Maybe not as publicly advertised as some of the other celebrities listed here, the "Filthy" singer is quite open about how he smokes sometimes, even with his own mother. He also admitted that he was "stoned out" when he was getting Punk'd by Ashton Kutcher. We can only imagine how trippy that must have been.
Matthew McConaughey
Alright, alright, alright. If the Texan drawl and laid back attitude didn't give away Matthew McConaughey's love for Mary Jane, then how about the time he got arrested for playing the bongos while naked? Now that he's a father and an Oscar winner, the actor has calmed down but still enjoys playing those bongos.
Dave Chappelle
With more than enough weed jokes to keep his fans laughing (even the sober ones), this comedian is not afraid to label himself as a pothead. Not only did Mr. Chappelle write, direct and star in the stoner flick Half Baked, he also introduced fans to "scavenger smokers" and "enhancement smokers." Just remember though, Dave doesn't "do drugs. Just weed."
Rihanna
Never being one to care about what others think, this R&B singer's love for weed is public knowledge. She's been caught smoking on film, wearing clothes that are embellished with marijuana advertising and even updates her Instagram picture of her getting high. Talk about commitment RiRi.
Charlize Theron
This one came as a shock to us too. The actress had never given any hints about enjoying the green until the photo surfaced of her smoking a bong made out of an apple! That alone gets Charlize a spot on this list.
Cheech and Chong
How could we possibly create this list and not mention Cheech and Chong? Building their careers on their love for Mary Jane and comedy, this duo has entertained fans for decades with their stand-up tours and cannabis-fuelled adventures. The two still continue to use their fame to help push the legalization of marijuana.
Which one of these stoner celebrities would you want to smoke up with? Make sure that you are fully equipped to offer these superstars a toke with our wide variety of cannabis products. You don't want to leave them dry, but you definitely want to leave them high.
Image: By The Come Up Show from Canada (Snoop Dogg) [CC BY 2.0 (http://creativecommons.org/licenses/by/2.0)], via Wikimedia Commons