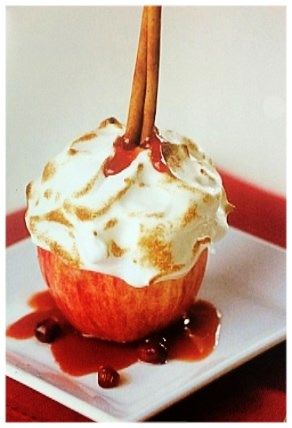 Baked Meringue Pomegranate Apples
Nothing captures the cool-weather bounty of fall more eloquently than sweet, crisp apples, with their tantalizing fragrance and taste.
Makes 6 baked apples
Pomegranate Syrup
1 cup of pure pomegranate juice
¼ of honey
1 tablespoon pure vanilla extract
Baked Apples
6 medium baking apples, such as Honeycrisp or Cortland
½ cup fresh pomegranate seeds
¾ cup chopped walnuts
2 tablespoons of Hey Sugar! (check out our other post on Hey Sugar! THC infused sugar)
6 tablespoons packed brown sugar
1 teaspoon lemon zest
6 cinnamon sticks
Meringue
6 egg whites
¼ teaspoon cream of tartar
½ cup granulated sugar
1 teaspoon pure vanilla extract
Preheat oven to 350ºF.
Prepare the pomegranate syrup: In a small saucepan, combine the pomegranate juice and honey and bring to a boil over medium heat. Reduce the heat to low and simmer, stirring occasionally, until the mixture has reduced by half. Let cool and stir in the vanilla. Set aside.
Prepare the apples: Wash apples and remove the cores, but do not cut all the way through to the bottom. Peel off a wide strip (about ½ inches) around the top edge. In a medium bowl, mix together the pomegranate seeds, walnuts, Hey Sugar!, brown sugar and lemon zest. Divide the pomegranate mixture evenly among the apples, filling each apple to within ¼ inch to the top. Insert a cinnamon stick into the center of each apple.
Place the apples upright in a 9 x 3-inch baking dish. Pour the pomegranate syrup over the apples. Bake for 30 to 40 minutes, or until tender, basting frequently with the syrup in the pan.
While the apples are baking, prepare the meringue: In a medium bowl using an electric mixer, beat the egg whites with the cream of tartar on high speed until soft peaks form. Slowly add the granulated sugar and continue beating until stiff and shiny. Blend in the vanilla extract.
Remove the apples from the oven and raise the oven temperature to 450ºF. Spoon or pipe the meringue in decorative swirls over the upper one-third of each apple. Return the apples to the oven and bake for 3 to 4 minutes more, or until the meringue is golden brown. Watch carefully to avoid burning.
To serve, evenly distribute the hot pomergrante syrup from the baking dish among six plates and place a baked apple on top. Remove the cinnamon stick before eating.
This recipe book & Magical Butter machine can all be found on our website & in store!
This recipe is taken from:
Lazarus, Karin. Sweet Mary Jane 75 Delicious Cannabis- Infused High End Desserts. Penguin Random House, LLC: New York. 235-237. Print.