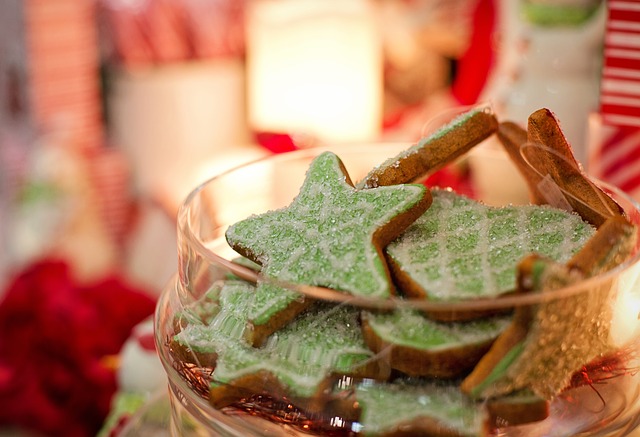 It's that time of year again where baked goods are getting passed around and you want to get in on the action. Whether you're seeking ideas for goodies around the home or a last minute gift, these five cannabis infused baked goods are guaranteed to not only get you in the festive spirit but to live up to their names and get you baked.
1. Ganjabread House
If you consider yourself to be an artist of some sort, you have to try creating this Ganjabread House. Taken from The Cannabist, this deliciously creative holiday baked good is infused with canna-butter made from Obama Kush and is the perfect centerpiece for the holidays. I'm sure your imagination is running wild with ideas for this one! For the full recipe visit http://www.thecannabist.co/2014/12/17/gingerbread-grow-house/25355/.
2. Weed Leaf Christmas Cookies
Although chocolate chip cookies are a fan favourite when it comes to baking, we thought we would mix it up a little bit and introduce you to the weed leaf Christmas cookie. This marijuana version of a butter cookie was created by the Bald Brothers Cannabis Distillery. It is one of the easiest recipes out there so even if you are already baked you can still make these sweet treats. All you have to do is mix the ingredients below and roll 2-inch sized pieces of dough into balls and flatten each ball with a fork on a greased cookie sheet. Once your oven is heated to 375 degrees slide that cookie sheet in and bake for 13-15 minutes. It's that easy.
Ingredients
• 1 ½ cups sifted all-purpose flour
• ½ cup cornstarch
• ½ cup white sugar
• 1 cup cannabutter
3. Peppermint Pot Brownies
A classic treat for any stoner to make, these pot brownies take it to the next level for the holiday season with a peppermint twist. Created by The Cannabist, this recipe brings together two of the world's delicious foods to craft the perfect delicacy for the holiday season: white chocolate and cream cheese. For the full recipe visit http://www.thecannabist.co/2015/12/22/marijuana-recipes-pot-brownies-peppermint-white-chocolate-holidays/45509/.
4. Spiked Eggnog
No need to spike the eggnog this year with alcohol. Instead, spike it with something even tastier this holiday season! This creamy, spiced drink taken from The Weedist is not only the perfect drink for Christmas, but also for New Years Eve and for any cold winter night. You can find the full ingredient list and recipe here, http://www.weedist.com/2014/12/great-edibles-recipes-cannabis-spiked-eggnog/.
5. Cannaberry Sauce
Cannabis infused jams, jellies and preserves make wonderful holiday gifts, especially that cranberry holiday favourite flavor. This easy-to-make recipe involves only four ingredients and the stove does all the hard work for you. In a sauce pan mix the listed ingredients below on medium-high until the cranberries start to pop. Once they have popped, let the sauce simmer for 30 minutes, stirring occasionally.
Ingredients
• 2 cups fresh cranberries
• 1 cup orange juice (or water)
• ¼ cup Agave (or sugar)
• 1 tbsp cannabutter
Now that you have five delicious recipes to choose from, it's time to get baked and start baking! Happy holidays!