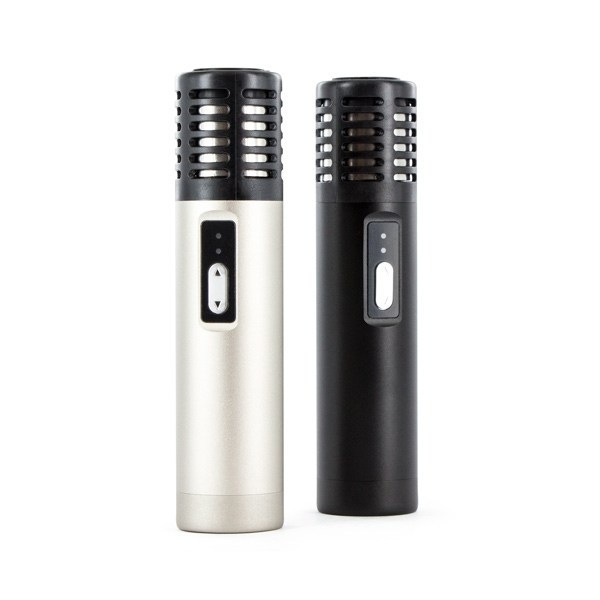 In a world where size matters, Arizer have managed to take personal vaping to a new level with the Arizer Air Portable Vaporizer.
The idea behind the Arizer Air is to be ultra lightweight and compact, while keeping usability, maintenance and operation at a high level – a feat which is exemplified by features such as a high quality ceramic heating element, high quality glass dishes, rechargeable, interchangeable lithium batteries. Portability is at a premium with the Arizer Air, as this little wonder provides an hour of continuous use, the ability to use the unit while it's charging, and the option to have spare batteries fully charged, giving an ideal scenario for day-to-day use both at home and on the go!
The Arizer Air Portable Vaporizer utilizes a sleek and compact design, measuring only 122mm in height and 29mm in diameter, which allows for convenient placement inside your pocket or purse. The exterior shell protects the unit from the wear and tear, while the vented top keeps the overall temperature of the body to a minimum. The ceramic heating element is housed in a solid foundation, adding more durability to an already-solid unit. The variable temperature control, along with an optimized heating system, allows the Arizer Air to heat up quickly to provide a smooth vapour flow and best flavour without heat, often creating harshness, found in other products.
As if all of these features weren't enough, the Air also offers customization width a wide range of parts and accessories, allowing you to be prepared for any situation!
Currently in stock, the Arizer Air Portable Vaporizer starts at $249.99, is available in 3 colours (black/silver/titanium), and comes complete with a battery, a charger, 2 glass diffuser stems, a glass aroma dish, carrying case, clear protective silicone skin, and a stainless steel stirring tool. Get yours today!